Winner of the Shirley Jackson Award
Posted on

July 15, 2015

in Blog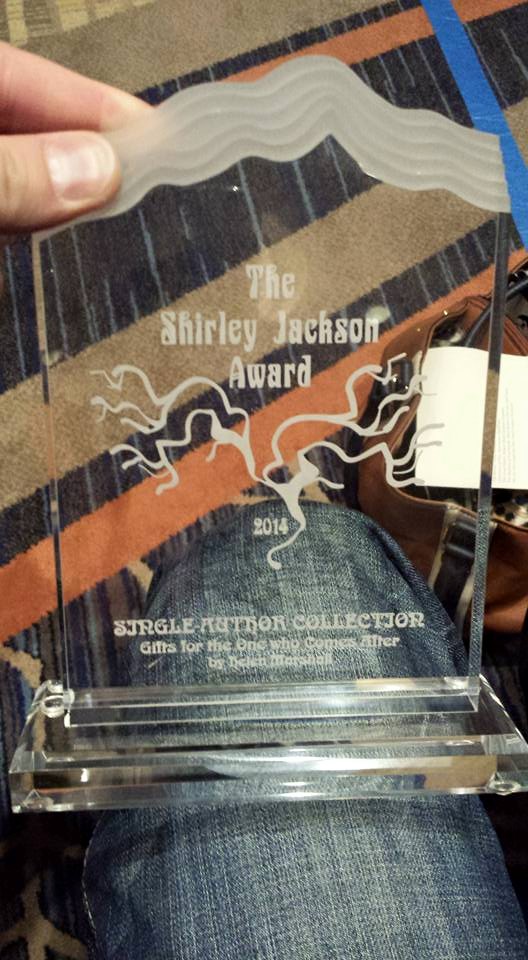 The winners of the Shirley Jackson Awards were announced in Boston this last weekend, and, to my great sadness, I was unable to attend. My collection Gifts for the One Who Comes After was nominated for Best Collection, alongside four incredible books, After the People Lights Have Gone Out by my CW instructor, Stephen Graham Jones; The Unseaming by Mike Allen; Burnt Black Suns by Simon Strantzas; and They Do The Same Things Different There by fellow CZP author Robert Shearman. 
I was absolutely delighted to learn that Gifts for the One Who Comes After took home the prize! This award is a particular honour for me because Shirley Jackson's writings, particularly Hill House and We Have Always Lived in the Castle continue to be an inspiration for me. She brings such wry wit, such deftness, and such chilling insight into her writing. I couldn't be prouder.
But I wanted to take a moment to post the speech I asked Sandra Kasturi to deliver on my behalf.
No live organism can continue for long to exist sanely under conditions of absolute reality. And no writer can continue for long to exist sanely under the conditions of absolute self-deception necessary to write a book. I'd like to thank all the people who helped me keep it together while I finished mine: my sister Laura, who always seems to get top billing and has certainly earned it!; Robert Shearman who read all these stories in their infancy; Chris Roberts, for the gorgeous artwork; my Clarion West classmates for the whisky; and the staff of ChiZine Publications, particularly Vince Haig who went beyond the call of duty, and, of course, Sandra Kasturi, my editor and dear friend, without whose support I wouldn't have had the courage to try.
I was also lucky in that Vince Haig was kind enough to take me out for a drink while I scrolled through social media, trying to follow the awards. So, cheers, everyone, especially to my fellow nominees, and to the winners of the Award (Jeff VanderMeer, Daryl Gregory, Dale Bailey, Alison Littlewood, and Ellen Datlow)! This is fantastic!