Shirley Jackson Award Nomination
Posted on

May 8, 2015

in Blog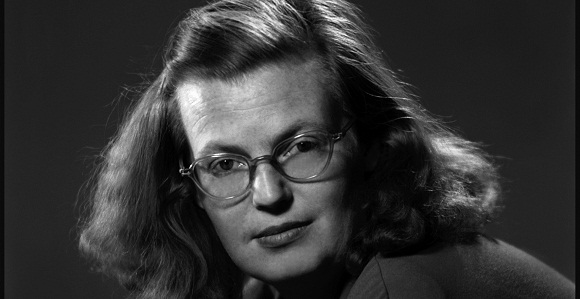 One of my favourite writers of recent years is Shirley Jackson. Darkly comic, psychologically astute, and eminently readable, her prose is by turns chilling and thoroughly delightful. And so it is with extreme pride that I can announce that my collection Gifts for the One Who Comes After has been short-listed to receive an award which bears her name. I'm also particularly pleased to share the ballot of Best Collection with Robert Shearman, Simon Strantzas, Mike Allen and Stephen Graham Jones–writers whose work I've been reading and admiring for years.
Boston, MA (May 2015) – In recognition of the legacy of Shirley Jackson's writing, and with permission of the author's estate, The Shirley Jackson Awards, Inc. has been established for outstanding achievement in the literature of psychological suspense, horror, and the dark fantastic.
The Shirley Jackson Awards are voted upon by a jury of professional writers, editors, critics, and academics, with input from a Board of Advisors. The awards are given for the best work published in the preceding calendar year in the following categories: Novel, Novella, Novelette, Short Story, Single-Author Collection, and Edited Anthology.
The nominees for the 2014 Shirley Jackson Awards are:
NOVEL
Annihilation, Jeff VanderMeer (FSG Originals)
Bird Box, Josh Malerman (Ecco)
Broken Monsters, Lauren Beukes (Mulholland)
Confessions, Kanae Minato (Mulholland)
The Lesser Dead, Christopher Buehlman (Berkley)
The Unquiet House, Alison Littlewood (Jo Fletcher Books)
NOVELLA
The Beauty, Aliya Whiteley (Unsung Stories)
Ceremony of Flies, Kate Jonez (DarkFuse)
The Good Shabti, Robert Sharp (Jurassic London)
The Mothers of Voorhisville, Mary Rickert (Tor.com, April 2014)
We Are All Completely Fine, Daryl Gregory (Tachyon)
NOVELETTE
"The Devil in America," Kai Ashante Wilson (Tor.com, April 2014)
"The End of the End of Everything," Dale Bailey (Tor.com, April 2014)
"The Husband Stitch," Carmen Maria Machado (Granta)
"Newspaper Heart," Stephen Volk (The Spectral Book of Horror Stories, Spectral Press)
"Office at Night," Kate Bernheimer and Laird Hunt (Walker Art Center/ Coffee House Press)
"The Quiet Room," V H Leslie (Shadows & Tall Trees 2014, Undertow Publications/ChiZine Publications)
SHORT FICTION
"Candy Girl," Chikodili Emelumadu (Apex Magazine, November 2014)
"The Dogs Home," Alison Littlewood (The Spectral Book of Horror Stories, Spectral Press)
"The Fisher Queen," Alyssa Wong (The Magazine of Fantasy and Science Fiction, May/June 2014)
"Shay Corsham Worsted," Garth Nix (Fearful Symmetries, ChiZine Publications)
"Wendigo Nights," Siobhan Carroll (Fearful Symmetries, ChiZine Publications)
SINGLE-AUTHOR COLLECTION
After the People Lights Have Gone Off, Stephen Graham Jones (Dark House)
Burnt Black Suns: A Collection of Weird Tales, Simon Strantzas (Hippocampus)
Gifts for the One who Comes After, Helen Marshall (ChiZine Publications)
They Do The Same Things Different There, Robert Shearman (ChiZine Publications)
Unseaming, Mike Allen (Antimatter Press)
EDITED ANTHOLOGY
Letters to Lovecraft, edited by Jesse Bullington (Stone Skin Press)
Fearful Symmetries, edited by Ellen Datlow (ChiZine Publications)
The Spectral Book of Horror Stories, edited by Mark Morris (Spectral Press)
Shadows & Tall Trees 2014, edited by Michael Kelly (Undertow Publications/ChiZine Publications)
The Children of Old Leech: A Tribute to the Carnivorous Cosmos of Laird Barron, edited by Ross E. Lockhart and Justin Steele (Word Horde)
Shirley Jackson (1916-1965) wrote such classic novels as The Haunting of Hill House and We Have Always Lived in the Castle, as well as one of the most famous short stories in the English language, "The Lottery." Her work continues to be a major influence on writers of every kind of fiction, from the most traditional genre offerings to the most innovative literary work.