Now Launching GIFTS FOR THE ONE WHO COMES AFTER!
Posted on

August 19, 2014

in Blog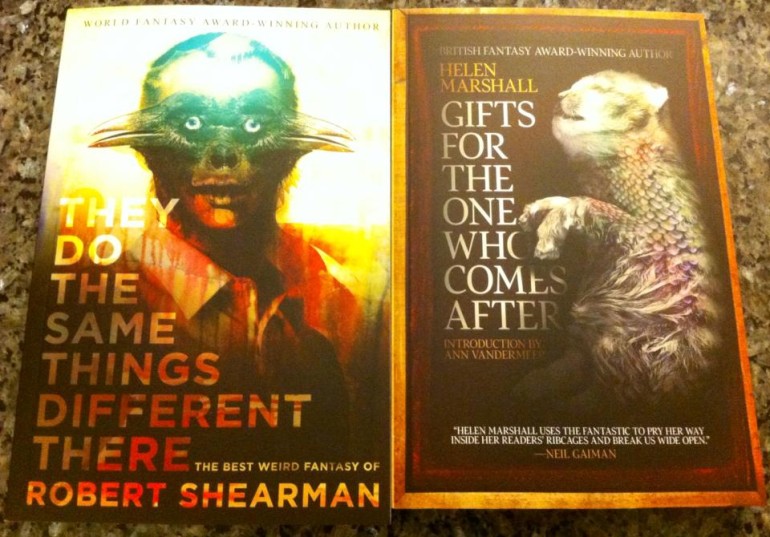 Phew! It's been quite a weekend! I got my first glimpse of copies of Gifts for the One Who Comes After when I pried open the box that had been shipped to my hotel. What beautiful, frightening things! 
Holding a new book in your hands is one of the best feelings in the world, and God did it feel good. I'm exceptionally proud of Gifts for the One Who Comes After, and I was honoured and delighted to be able to launch alongside my very dear friend, Robert Shearman. Both of these books are close to my heart.
Both myself and Rob (see above!) sold out of books at our launch at LonCon! I want to thank the people who helped us pull off such a great event: David Nickle, Caitlin Sweet, Vince Haig, Georgina Kamsika, Allison Sollano, and M. Huw Evans. We shared our space with the Seattle-based writing workshop Clarion West where I studied in 2012 (and also where I wrote the first five stories that became the centre of this collection).
But, wait, there's more! I'll be running a number of launches over the next three months. If you're in England, you can catch Rob and I at the next following two events!
FantasyCon (York, England)
Saturday, September 6, 2014 3:00 pm
and
September British Fantasy Society Open Night (London, England)
Venue and Date: TBA  
More details as I have them!