Canadian SF/F Story Bundle
Posted on

April 3, 2016

in Blog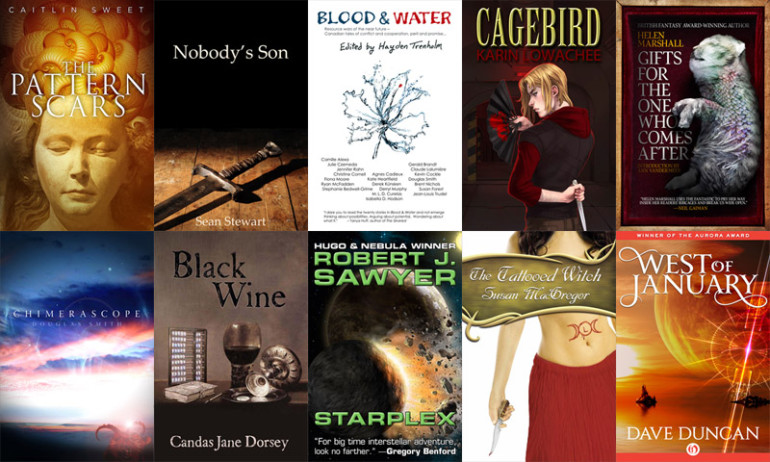 How would you like to own, at an incredible bargain, ten books that readers like yourself have already voted to be the best examples of speculative fiction published in Canada? Well, here's your chance.  The Aurora Award Bundle contains winners and finalists for Canada's premier speculative fiction award, the Aurora Award.
The Story Bundle curator, Douglas Smith, has won the Aurora three times and been on the final ballot another sixteen. One of his goals when putting this bundle together, aside from offering the best books possible, was to have a gender balance in the selected authors. Mission accomplished. The bundle includes five female and five male authors. You'll also get a great mix of SF and fantasy, adult and YA novels, as well as a selection of short fiction. The bundle also reflects the long history of the Auroras, with titles spanning over twenty years of Canadian speculative fiction.
You can read more about how the bundle was assembled here.
Starplex from Robert J. Sawyer, takes you onboard a giant exploration starship crewed by humans, dolphins, and extraterrestrials as it embarks on a journey covering billions of years of time and millions of light-years of space. It was also a finalist for both the Hugo and Nebula awards.

Dave Duncan's West of January is a rare standalone SF novel from a master writer of fantasy series. In it, astounding world building drives a thought-provoking tale of a strange, slowly rotating planet where the habitable zone shifts over a human lifespan.

Karin Lowachee's Cagebird is the third book set in her Warchild universe about a galaxy spanning human-alien war. It's a standalone novel so don't worry if you haven't read the first two. (But you should—Warchild won the Warner Aspect First Novel Award and was an Aurora finalist.)

Susan McGregor contributes the first book in her Tattooed Witch fantasy trilogy, set during the Spanish Inquisition and wonderfully infused with Romany culture of the time. In it, a young woman must turn to her dead mother's magical legacy to battle the Grand Inquisitor himself.

Caitlin Sweet's The Pattern Scars immerses you in the world of a seer able to see the future but not change it. A dark, literary fantasy with believable characters and beautiful prose, the book also won the CBC Bookies Award in 2012.

Candas Jane Dorsey's Black Wine is a much-praised novel that can be viewed as both fantasy and SF. It is challenging, memorable, with the beautiful prose one would expect from cross-genre writer who is also a poet. It also won the James Tiptree Jr. Award and the Crawford Award.

Sean Stewart provides an excellent young adult fantasy story with Nobody's Son, in which the hero defeats the beast and wins the hand of the princess in the first chapter—and then learns what the fairy tales never tell you.

The bundle also demonstrates the rich tradition of Canadian short speculative fiction, with an anthology and two collections. The anthology Blood & Water, edited by three-time Aurora winner Hayden Trenholm, gives us timely tales of battles over our most precious resource, fueled by climate change, population growth, and humanity's natural aggression.

Gifts for the One who Comes After, by Helen Marshall, is a brilliant introduction to the work of one of the brightest new lights in short fiction. Gifts also won the World Fantasy Award and was short-listed for both the British Fantasy Award and the Bram Stoker Award.

My own collection, Chimerascope¸ contains a mix of SF, fantasy, and horror, including an Aurora winner, seven Aurora finalists, and a Best New Horror selection. The collection was also a finalist for the Sunburst Award and the CBC Bookies award.

And if you are looking for still more pedigree, the bundle includes two CSFFA Hall of Fame inductees (Sawyer and Duncan), as well as a current nominee (Dorsey).

– Douglas Smith
For StoryBundle, you decide what price you want to pay. For $5 (or more, if you feel generous), you'll get the basic bundle of five books in any ebook format worldwide:
Nobody's Son by Sean Stewart
Cagebird by Karin Lowachee
Gifts For the One Who Comes After by Helen Marshall
Blood and Water by Hayden Trenholm
Pattern Scars by Caitlin Sweet
If you pay more than the bonus price of just $15, you get all five of the regular titles, plus five more:
The Tattooed Witch by Susan MacGregor
Starplex by Robert J. Sawyer
West of January by Dave Duncan
Chimerascope by Douglas Smith
Black Wine by Candas Jane Dorsey
The bundle is available for a very limited time only, via http://www.storybundle.com. It allows easy reading on computers, smartphones, and tablets as well as Kindle and other ereaders via file transfer, email, and other methods. You get multiple DRM-free formats (.epub and .mobi) for all books!
It's also super easy to give the gift of reading with StoryBundle, thanks to our gift cards – which allow you to send someone a code that they can redeem for any future StoryBundle bundle – and timed delivery, which allows you to control exactly when your recipient will get the gift of StoryBundle.
Why StoryBundle? Here are just a few benefits StoryBundle provides.
Get quality reads: We've chosen works from excellent authors to bundle together in one convenient package.
Pay what you want (minimum $5): You decide how much these fantastic books are worth to you. If you can only spare a little, that's fine! You'll still get access to a batch of exceptional titles.
Support authors who support DRM-free books: StoryBundle is a platform for authors to get exposure for their works, both for the titles featured in the bundle and for the rest of their catalog. Supporting authors who let you read their books on any device you want—restriction free—will show everyone there's nothing wrong with ditching DRM.
Give to worthy causes: Bundle buyers have a chance to donate a portion of their proceeds to charity.
Receive extra books: If you beat the bonus price, you'll get the bonus books!