Hair Side, Flesh Side wins the British Fantasy Award for Best Newcomer
Posted on

November 16, 2013

in Blog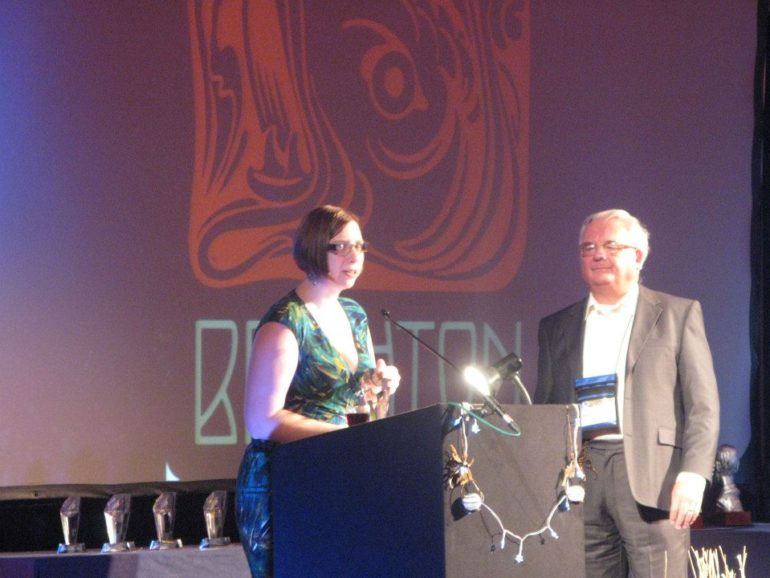 I'm so delighted to announce that I won the 2013 British Fantasy Award for Best Newcomer for my collection Hair Side, Flesh Side. The awards were presented at the World Fantasy Convention in Brighton on November 3, 2013 alongside the World Fantasy Awards.
The entire ceremony was tremendously emotional — compounded when Brett Savory and Sandra Kasturi of ChiZine Publications, my publishers, won the British Fantasy Award for Best Small Press and Robert Shearman, my dear friend and whose book Remember Why You Fear Me I had the pleasure of editing, won the British Fantasy Award for Best Collection. There were many celebrations to be had.
I wanted to say again what a debt of gratitude I owe to the people who have shaped me as an author and helped me survive the process of launching my first book: Brett and Sandra, of course, who gave me my break and who have been the best of friends and supporters; Robert Shearman, who wrote the Introduction and showed me the ropes; Chris Roberts, my long time artistic collaborator; and my sister Laura, who is probably most responsible for getting me to the finish line. Really. All my books belong to her and I love her very dearly.