"The Slipway Grey" in The Year's Best Dark Fantasy and Horror: 2014
Posted on

January 22, 2014

in Blog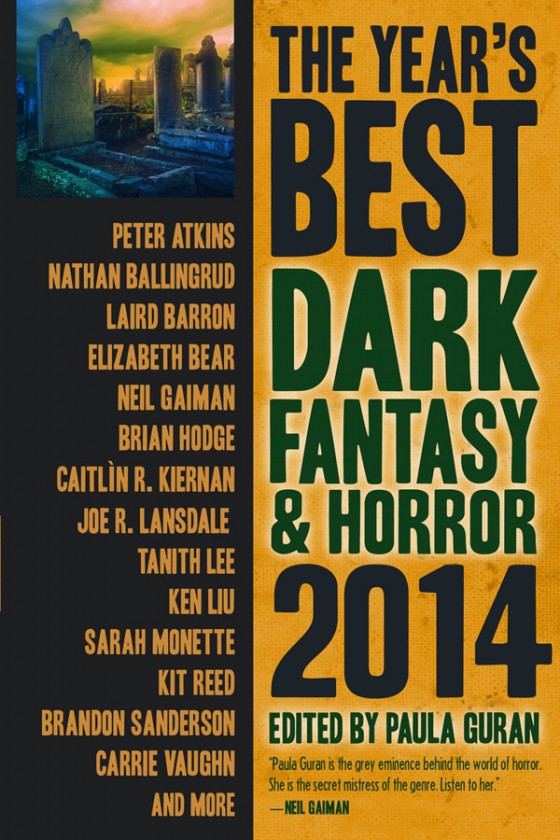 I'm delighted to announce that my short story "The Slipway Grey" first published in Michael Kelly's fabulous collection Chilling Tales 2 (EDGE Publications, 2013) will be in The Year's Best Dark Fantasy and Horror: 2014.
It's a strange story: about an old man who tells his grand-daughter about his vision of the Angel of Death—a massive bull shark haunting the Selebi mines in Rhodesia.
It was inspired by a number of stories told to me by family and friends of family who grew up in South Africa. My dad, in particular, dabbled in hypnotism for a time in university and this always fascinated me. (Also, sharks. Sharks fascinate me—and by "fascinate" I mean "scare the bejesus out of me".)
The table of contents for Paula Guran's anthology looks fantastic, and so, on that note, I'll leave you with the notes from Prime's website.
No matter your expectations, the dark is full of the unknown: grim futures, distorted pasts, invasions of the uncanny, paranormal fancies, weird dreams, unnerving nightmares, baffling enigmas, revelatory excursions, desperate adventures, spectral journeys, mundane terrors and supernatural visions. You may stumble into obsession or find redemption. Often disturbing, occasionally delightful, let The Year's Best Dark Fantasy and Horror be your annual guide through the mysteries and wonders of dark fiction.
Contents (in alphabetical order by author's last name):
"Postcards from Abroad," Peter Atkins (Rolling Darkness Revue 2013, Earthling Publications)
"The Creature Recants," Dale Bailey (Clarkesworld, Issue 85, October 2013)
"The Good Husband," Nathan Ballingrud (North American Lake Monsters, Small Beer Press)
"Termination Dust," Laird Barron (Tales of Jack the Ripper, ed. Ross Lockhart, Word Horde)
"The Ghost Makers," Elizabeth Bear (Fearsome Journeys, ed. Jonathan Strahan, Solaris)
"The Marginals," Steve Duffy (The Moment of Panic, PSPublishing)
"A Collapse of Horses," Brian Evenson (The American Reader, Feb/Mar 2013)
"A Lunar Labyrinth," Neil Gaiman (Shadows of the New Sun: Stories in Honor of Gene Wolfe, eds. J. E. Mooney & Bill Fawcett, Tor)
"Pride," Glen Hirshberg (Rolling Darkness Revue 2013, Earthling Publications)
"Let My Smile Be Your Umbrella," Brian Hodge (Psycho-Mania!, ed. Stephen Jones, Robinson)
"The Soul in the Bell Jar," K. J. Kabza (The Magazine of Fantasy & Science Fiction, Nov/Dec 2013)
"The Prayer of Ninety Cats," Caitlín R. Kiernan (Subterranean Online, Spring 2013)
"Dark Gardens," Greg Kurzawa (Interzone # 248)
"A Little of the Night," Tanith Lee (Clockwork Phoenix 4, ed. Mike Allen, Mythic Delirium)
"The Gruesome Affair of the Electric Blue Lightning," Joe R. Lansdale (Beyond Rue Morgue: Further Tales of Edgar Allan Poe's First Detective, ed. Paul Kane & Charles Prepole, Titan)
"Iseul's Lexicon," Yoon Ha Lee (Conservation of Shadows, Prime Books)
"The Plague" Ken Liu (Nature, 16 May 2013)
"The Slipway Gray," Helen Marshall (Chilling Tales 2, ed. Michael Kelly, Edge Publications)
"To Die for Moonlight," Sarah Monette (Apex Magazine, Issue #50)
"Event Horizon," Sunny Moraine (Strange Horizons, 21 Oct 2013)
"The Legend of Troop 13," Kit Reed (Asimov's Science Fiction, Jan 2013 / The Story Until Now: A Great Big Book of Stories, Wesleyan)
"Shadows for Silence in the Forests of Hell," Brandon Sanderson (Dangerous Women, eds. George R. R. Martin & Gardner Dozois, Tor)
"Phosphorous," Veronica Schanoes, (Queen Victoria's Book of Spells: An Anthology of Gaslamp Fantasy, eds. Ellen Datlow & Terri Windling, Tor)
"Blue Amber," David J. Schow (Impossible Monsters, ed. Kasey Lansdale, Subterranean Press)
"Rag and Bone," Priya Sharma (Tor.com, 10 April 2013)
"Our Lady of Ruins", Sarah Singleton (The Dark 2, Dec 2013)
"Cuckoo," Angela Slatter (A Killer Among Demons, ed. Craig Bezant, Dark Prints Press)
"Wheatfield with Crows," Steve Rasnic Tem (Dark World: Ghost Stories, ed. Timothy Parker Russell, Tartarus Press)
"Moonstruck," Karin Tidbeck (Shadows and Tall Trees, Vol. 5, ed. Mike Kelly, Undertow)
"The Dream Detective," Lisa Tuttle (Lightspeed, Mar 2013)
"Fishwife," Carrie Vaughn (Nightmare, Jun 2013
"Air, Water and the Grove," Kaaron Warren (The Lowest Heaven, eds Anne C. Perry & Jared Shurin, Jurassic London)